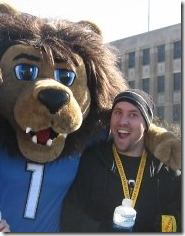 Two weekends ago was the Detroit Free Press Marathon in downtown Detroit (and Windsor).  Not feeling up to running a full marathon or a half marathon this time, I ran in the marathon relay.  For this relay, we had a team of myself and 4 other people I work with running varied distances.  It worked out like this:
1.  First runner runs 6.2 miles and crosses the Ambassador Bridge into Windsor.
2.  Second runner goes 6 miles and goes through the tunnel back to Detroit.
3.  Third runner does 6.7 miles and goes through Campus Maritus.
4.  3 miles around Belle Isle.
5.  4.4 miles and crosses the finish line.
I ended up running the first leg which meant that I didn't have to sit around and wait for anyone to get to me but also meant that I had to start at 7:20 am.  It was pretty damn cold that early in the morning.  Running up the bridge, while quite an experience, was a little rough.  It's pretty damn steep.  All said and done, my team finished in 3 hours, 48 minutes, and 15 seconds.  We were 19th out of 97 "over 500 employee corporate teams".  After finishing we headed over to check out the "post party" dubbed "Conquered".  The advertised band for the event was "The Killer Flamingos."  Now I've seen the flamingos before and rather enjoyed them but if they were the only band that played at the party, then wow.  The band that played while we were there just sucked something awful.  After suffering through that and paying for a thimble size cup of beer, we headed out on a little bar tour.  Before leaving the D, we hit up Cobo Joes, the Hard Rock Cafe, and best of all, the Town Pump.  All that drinking was reward enough for having to run into Canada early in the morning.
---
---