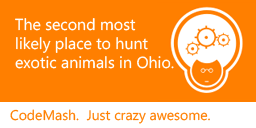 Recently, I finally got off my ass and volunteered to speak at a few sessions.  By volunteered, I mean I submitted abstracts and was selected, so that's pretty awesome.  The two conferences I'm going to be speaking at will be CodeMash and 1DevDayDetroit. 
CodeMash is a relatively new conference that started in 2007.  I actually attended the conference the first year they had it but haven't been back since.  Where most conferences deal with a "limited" selection of technology (i.e. Microsoft has conferences regarding Microsoft stuff, Google has Google ones, etc), CodeMash covers a wide variety of technologies from Java to .Net, PHP to Ruby, and more.  Attending this conference really gives developers the chance to see what else is out there and how other people do things.  This year, CodeMash opened registration on October 24th (at 10:24 AM mind you) and sold out after 20 minutes.  Considering that this conference isn't fronted by any huge technology company and isn't what you think of when you think "Huge Product Release", this is pretty incredible.  I'll be doing a presentation on the Introduction to Android Development.  This session is going to be meant for people that haven't done mobile development before.  It will cover the basics of Android development, the tools necessary, and how the Android Marketplace works.  As I've been doing a good amount of Android development, I'm pretty excited to be giving this presentation at what's quickly becoming a pretty big conference.  CodeMash is going down in Sandusky, Ohio on January 11th - 13th.

The second conference, 1DevDayDetroit, is a smaller conference that is, obviously, in Detroit.  This is a smaller and newer conference that focuses on getting the development community in Metro Detroit together to share and learn about different technology programs.  At this conference I will be speaking on Cloud to Device Messaging (C2DM) for Android.  This is a bit more of an advanced Android topic and I'm really looking forward to it as it will be my first conference presentation.  This conference is taking place at the Compuware building in Detroit on November 4th and 5th.
If you're attending either of these conferences, stop by for my presentation and let me know how it was.
---
---