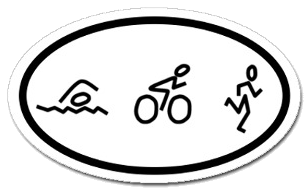 This past weekend I participated in my first triathlon: the Zukey Lake Tri at the Tavern.  The event is so named because it takes part in and around Zukey Lake and begins, ends, and is sponsored by the Zukey Lake Tavern.  This was a sprint triathlon which means it should be a 750 m (.47 mile) swim, a 20 km (12.4 mile) bike ride, and a 5 km (3.1 mile) run.  I labored under this assumption the whole time.  However, I found out that the bike portion of this race was actually 15.5 miles (25 km). 
The Training
I've done a fair amount of running races before (two half-marathons and a handful of shorter ones) and I swam for my high school for all four years so I was pretty sure if I could do more bike riding I'd be fine.  Luckily, my long history of swimming ended up paying off since I was only able to swim 3 or 4 times as part of the training.  if you're not use to swimming, practicing this is a must.  For biking, the majority of the time I was using a trainer at home or a trainer at the gym.  While I usually had my the trainers set to a high resistance level, this wasn't the same as doing hill riding.  At one point I went swimming and biking with my friends Kevin and Sam, who were doing a triathlon the day after mine.  We rode on the bike course they were doing for their tri and it was much more hilly than I was use to.  After that I started doing a lot more hill training on the trainers instead of just static high resistance levels.  As to the running, I wasn't too worried about it.  However, I've been training a lot with my Vibrams and wanted to do the whole race in them.  This posed a little bit of a problem because you can't just take off your running shoes and put on some Vibrams and run the same distance.  You have to do a lot of building up to running even a briefly long distance in them.  So on top of getting use to doing biking and then running right after, I needed to build up my feet.  At one point I went to far too fast and hurt my left foot pretty seriously.  I had to take a couple weeks off of running after that and had to go back to starting around one mile in them.  Even as I was approaching the event, it felt like my left foot was hurting pretty frequently.  I was pretty sure that I'd be able to finish the race but that I'd probably screw my foot up pretty bad in the process.  Oddly enough, about a week before hand I went for a 3 mile run in them and had no problems.  Once that happened, I knew I was ready.
The Race
While I do salute the volunteers and organizers that set up and ran this event, I have to say that they could have been more organized.  It was pretty difficult to find information on the race online.  While I was led to believe the start time wasn't until 9, they sent an email the day before saying that the race started at 8.  They sent instructions to park in a school lot down the road from the tavern but didn't really give good directions to get there (and they should have since Google Maps was off a bit).  Those things aside, I got to the race with more than enough time to register, put my bike in the corral, and get to the lake.  With a few minutes left until the race was supposed to start, a lady got on the microphone to explain the course of the half mile swim.  The instructions were "swim between the two yellow buoys, to the right of the pink one, around the right of yellow one with the pirate flag, around the right of the second yellow one with a pirate flag, and then back through the first two yellow ones."  The problem was that no one could see the two yellow floats with the pirate flags from the shore.  That aside, I got the general idea and was ready to go.  All the guys got into the water while the women hung back (they had split the genders into two waves).  Finally, a few minutes late, they gave us the go.  Having not spent a lot of time training for the swimming, I was pretty happy with my 17th (out of 148) place in the swim.  At 16:36, it was a pretty good half mile.  Once back on shore I ran up to the bike area and realized, I wasn't sure where the hell my bike was.  There weren't any numbers or indicators to let you know which coral was yours.  Thankfully I had tied a bright green shirt around the handle bars so after a few extra seconds I found my bike, got my helmet on, and was heading out.  I'm pretty happy with my bike time of 54:59.  Based off the biking I did with Sam (who was riding a road bike) I think that my 29" mountain bike was somewhat responsible for my slower time.  If you're really thinking about getting into triathlons, I'd recommend a road bike.  If I decide to keep doing these (and I think I will) I'm definitely going to upgrade to one.  While I was passed handedly by many people on road bikes, I only saw one other person on a mountain bike.  His words, as he passed me by, were "I think we're on the wrong fricking bikes".  How right he was.  After the bike, I was pretty tired but ready to go for the run.  My feet were feeling fine, my legs felt like they still had juice in them.  I saw the first place guy returning back to the finish line shortly after I started, so I knew I was probably about 30 minutes behind the best their that day.  I was about 300 or 400 yards from being done when a bee decided to land on my lip and sting me.  That was unpleasant.  However, while that annoyance eventually faded, what happened after that continues to anger me.  While coming back in for the last 100 yards, I passed by 3 volunteers who said absolutely nothing while I ran into the bike staging area.  I think the assumption that they would direct me if I should be running somewhere else was a good one.  Plus they hadn't directed the guy in front of me to go anywhere else so I was following him.  I got to the end of the bike staging area and was very confused by there not being people.  I finally stopped by one of the guy recording times and asked him where I was supposed to go.  He thought I was just leaving for the run after biking until I explained that I was done with my run.  Finally then was I directed where to go and which pad to cross over to finish the race.  I would say that I lost at least a minute to the poor coordination. 
All said and done, I finished in 54th place at 1:42:59.  I'm definitely looking forward to doing more triathlons in the future.  I'm hoping to train enough to be able to do an Olympic tri (that's pretty much double the distance) by next may.  After that, maybe I might even do a half-ironman.  That seems crazy right now but might be possible in the future.  If you're thinking about doing a Tri, I'd recommend it.  On a side note, while I didn't win the race, I did win the race to the first beer at the Zukey Lake Tavern.
---
---