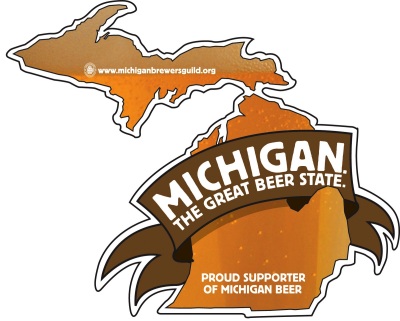 Two weeks ago today, we spent our last day in Michigan (kind of) before the drive out west to Washington.  It was interesting packing up and preparing to Leave Michigan as I've done it once before.  It doesn't seem so long ago but just over four years ago I briefly moved from Michigan (where I grew up and lived most of my life) to Scottsdale, Arizona.  That only lasted four months and I was back in Michigan.  Things are a lot different this time around so I'm pretty sure I won't be moving back anytime soon. 
I look back on my most recent time in Michigan and am thankful I was there.  The family and friends I have there I wouldn't trade for anything.  That being said, I'm looking forward to enjoying everything that Washington has to offer (more about that another time). 
Thank You
I'd like to thank all of my friends and family for giving us such a great send off.  Erin and I were recently married and it did feel a little weird making such a move so soon after that.  Thankfully, all of you were very supportive of our move and helped us celebrate.  I know I've learned a lot from all of you and look forward to staying in touch.  For those of you in Michigan, don't forget there is a whole world out there.  I'm not advocating everyone moving out of Michigan, but make sure you see the rest of the world (or at least the US) as you may find something even better.
Detroit
I thought this would be a good time to clarify my thoughts on Detroit.  I think Detroit has a lot of promise.  I've naysaid it quite a bit, especially after my previous job moved there.  Detroit is on a slow path to recovery but I know that with awesome people as interested in living and making the city grow, it's got a chance.  It will have more of a chance when the burnt out husks of buildings are torn down, though it seems for now, the intention is to leave them around and just improve small areas of the city.  My biggest problem with being in Detroit, was that it was forced.  I enjoy going to Detroit and helping the city when it's by choice, not when it's required to keep a job or help a billionaire feel better about the good he's doing.  I still like the city and will return to it when I'm in Michigan but, in the end, I decided with my feet.  So, good luck to Detroit and everyone in it.  I can't wait to see you shine.
The Drive West
As I said, two weeks ago was sort of our last day in Michigan.  I say this because we actually drove north through the UP and stopped there on the first day of our journey.  Where we stopped was basically another state though.  After that, we travelled through a number of other states before finally reaching Washington.  We saw a lumberjack and the weirdest restaurant I've ever passed by.  So much driving definitely tired the dog out.  The drive was very scenic once we got to western Montana and the drive from the Montana-Idaho border into western Washington is really stunning.  As you might imagine, after 5 days of spending half the day in the car, we were quite happy when we arrived in Washington.  That's where I'll leave off for now.  I'm hoping soon to post about some of the fun stuff we're doing now that we've arrived.
---
---