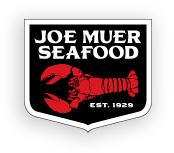 With only a bit more than a month to go until we move to Washington, Erin and I have been trying to get in all of the things we've wanted to do in Michigan and haven't had a chance to yet.  Sadly some of the things, like a trip to Mackinaw Island, just won't happen.  Fortunately, we have been able to knock out a few of them, including a trip to Joe Muer Seafood at the Renaissance Center in downtown Detroit. 
If you aren't aware, and I wasn't, Joe Muer Seafood was a restaurant in downtown Detroit that opened (as Joe Muer's Oyster Bar) in 1929.  The original restaurant shut down in 1989 and the Joe Muer's grill closed in 2004.  Joe Vicari, of Andriomo restaurants fame, bought the rights to the name and logo from Muer and reopened Joe Muer Seafood in 2011.  As Erin and I are both seafood lovers, we really wanted to try this place out before leaving town.  I was travelling for work for two weeks in a row with only a brief stop at home during the weekend in between and felt it would be a good time to try it out.
The Food
We started with a Joe Muer sushi roll and the crab balls.  The Joe Muer roll has salmon, shrimp, avocado, cucumber, crab, campyo, tuna, spicy mayo, and tempura crunch flakes.  This was actually one of the best rolls of sushi we've had in Michigan.  we had another chance to go back, I would consider just getting sushi based off the quality of this roll.  The crab balls were made with blue crab and came with a stone ground mustard sauce.  The balls were so-so and were kind of dry, even with the mustard sauce.  I would pass on the balls in the future.
For our entrees, Erin had the Blue Crab Stuffed Shrimp and I had the Spice Crust Ahi Tuna.  Both of our entrees were amazingly delicious.  My tuna steak was the best looking, and tasting, piece of tuna I've had outside of Hawaii (which is coincidentally where the tuna I had at Joe Muer was from).  Erin's stuffed shrimp was nearly as good as my tuna.  Her dish did come with a corn timbale which just seemed kind of weird and didn't have a good taste to it.
For dessert, we were compelled to try the specialty:  the Coconut Cream Cake.  I don't frequently get dessert, but cake was incredibly good.  It was creamy.  It was coconutty.  It was good.  If you go and are in the mood for a dessert, I would recommend it.
The Drinks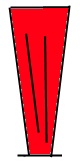 I've been on a bit of a Bloody Mary kick as of late so when I saw that they had a custom one called the "Crabby Mary" I had to try it.  It was exceptionally good with just the right amount of spice to it.  Unfortunately, the glass they bring it in and the straws placed in it don't really make a lot of sense. The glass they make the Crabby Mary in is quite tall, awkwardly so.  The straws placed in it are perhaps two-thirds of the size of the glass.  As you can see in the high-quality drawing I've made, this doesn't work very well.  As soon as you've had a drink or two, you're left with straws you can't reach unless you feel  like going diving into the glass.  That being said, it was a very good drink.  Erin wanted to get a glass of Rosé and they just happened to have one Rosé on the menu by the glass.  Unfortunately they were out.  Erin was fine with this and got something else, however, I think that if you run out of a bottle you offer by the glass and you have others of the same kind (and they did have other Rosés), you should offer one of those by the glass. 
The Service
When we first sat down, it was a good deal of time before our waitress came over.  After she took our initial drink order, it was again a good while before she returned.  Outside of that, and the wine issue mentioned above, the service was impeccable.  Joe Muer Seafood is a classy place and definitely tries to present it self as such when it comes to the service as the uniform for the wait-staff includes formal white jackets. 
The Price
This is a higher end restaurant so it's going to cost more than your local Applebees.  Expect to pay ten to twenty for an appetizer or sushi roll or cocktail, about ten for a low end glass of wine, and in the area of twenty-five to fifty for an entrée (with something like surf and turf closer to seventy).  Overall, for the quality of the food and the level of service, the prices line up and don't leave you wondering how you spent your money.
Overall
We really enjoyed the food, and the view of the river, at Joe Muer Seafood.  If we were going to be in Michigan longer, we would go back, though either just for sushi, or only on a special occasion.  If someone asks me where to go for a great Ahi tuna steak in the Detroit area, this is where I would tell them to go.
---
---