Posted on: 3/3/2010 10:05:00 PM by Chris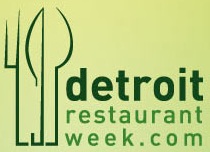 After going to the Whitney for Detroit Restaurant Week last September, Erin and I have been paying pretty close attention to the Detroit Restaurant Week website in anticipation of this year's DRW.  A month or so back, Erin noticed that they had updated the dates on the website from September to this April.  The 16th through the 25th to be exact.  The restaurants hadn't changed and the menus were the same so we figured maybe they were just doing the same places.  A few days ago, we noticed that they had changed the site and said "more information would be coming soon".  Just days ago, they updated the site with a list of the restaurants for 2010.  The menus that the restaurants will be offering aren't out yet, but you can check their real menus out to get an idea of what they might offer.  The deal is $27 per person (excluding tax, gratuity, and beverages) for a three course meal (appetizer, entree, desert).  Typically you have several options between each course as well.  This year, Erin and I have already made reservations at:
I'm looking most forward to the Rattlesnake Club as I've heard some really good things about it.  If you get a chance and have a free night April 16th - 25th, check out their site and make some reservations for yourself.  Considering the quality of some of these restaurants, it's a hell of a deal.  That being said, I wouldn't recommend the Whitney considering the other great restaurants.  As an example, last year one of Rattlesnake Club's entree options was a half pound lobster!  I'll be sure to write back about my experiences at each place as I did last year.
Comments: 2